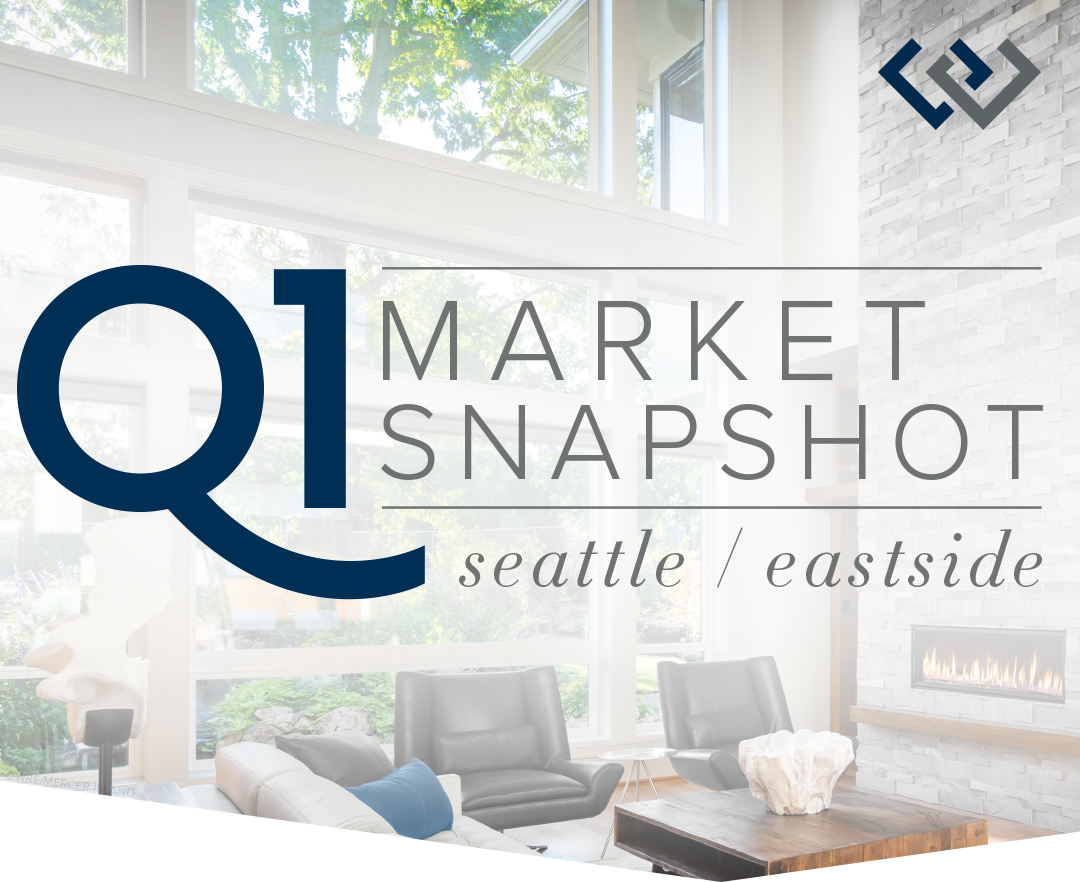 As we are fully entrenched in a new normal amidst the COVID-19 pandemic, it is important to note that the Q1 stats you see are based on pre-coronavirus closed sales activity and therefore largely untouched by our current market reality.
While Q1 serves as a pre-coronavirus benchmark, Q2 and Q3 will more accurately show the impacts of the (necessary) stay home order and resulting economic fallout. Our region stands to rebound more quickly than many US markets due to its pre-coronavirus strength.
Q1 saw a continued inventory shortage, although many homes were just queuing up to come on the market prior to the outbreak. Mortgage interest rates hit new lows in March (down about 1% from a year ago) bringing the typical monthly payment down significantly. For reference, a 1% change in interest rate equates to about a 10% change in buying power (i.e. an $800,000 home at 3.4% costs about the same per month as a $720,000 home at 4.4% interest).
Click or scroll down to find your area report:
---
SEATTLE
There were 11.2% more Seattle home sales in Q1 2020 (1,632) compared to Q1 2019 (1,468). Seattle's median sale price increased by an average of 3.4% in 2019 to $750,000. Lake Forest Park (+8.0%) and Queen Anne-Magnolia (+7.0%) were the area's top performers. The Central Seattle was down 6.9% over Q1 2019, much of which can be attributed to fewer luxury market sales and a higher percentage of smaller homes transacting during that period.
In Q1, 68.0% of Seattle homes (all price points) sold at or above their listed price, while only 13.7% of homes priced above $1 million did so. The average number of days to sell decreased to 41 from 50 in Q1 of the year prior.
The highest Seattle home sale was a 1930-built Lake Forest Park waterfront home for $5,000,000 and the lowest was a 1955-built 2-bedroom Skyway home for $215,000.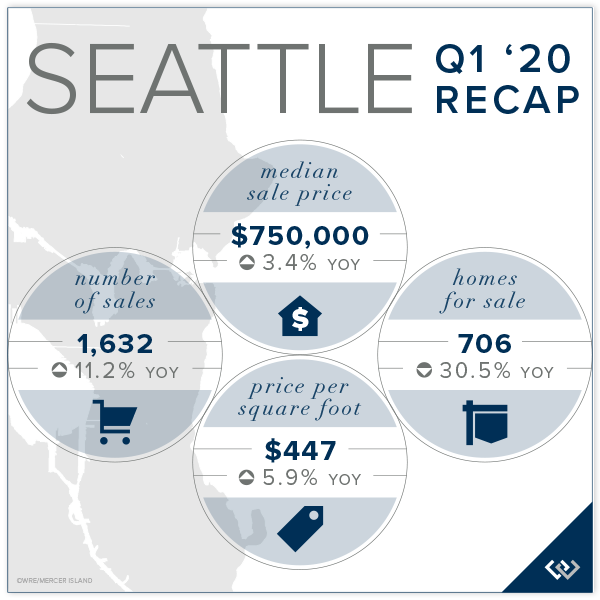 Click here to view the complete report for a neighborhood by neighborhood breakdown of Average Sale Price, size, and number of homes sold.

---
EASTSIDE
In Q1, 64.6% of Eastside homes, and 28.6% of homes priced above one million dollars, sold for at or above their listed price.
The Eastside median sale price was $989,500 in Q1, up 6.8% over Q1 2019. South Eastside (+18.1%) and Kirkland (+14.1%) performed best, while Woodinville saw a 2.5% decrease in its median sale price. The highest sale was an $11.5 million Medina waterfront home and the lowest sale was a 1960's Lake Margaret area cottage.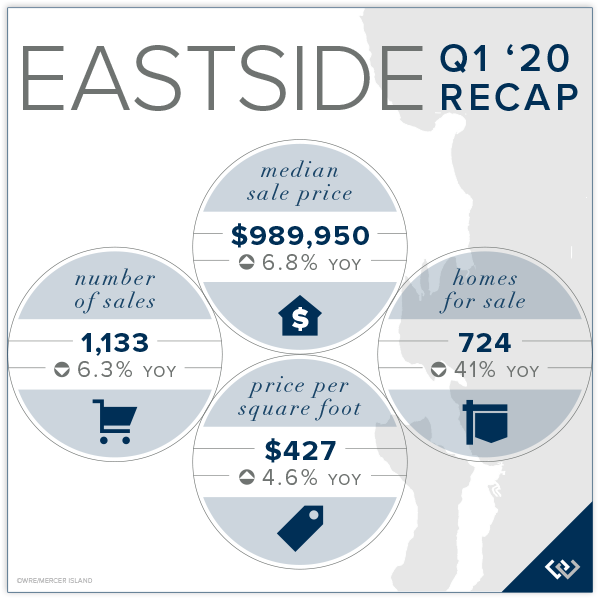 Click here for the full report and neighborhood-by-neighborhood statistics!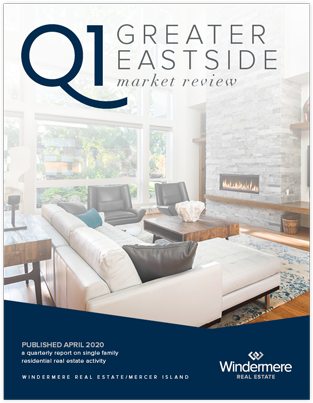 ---
MERCER ISLAND
Mercer Island has seen a record shortage of homes on the market in Q1 with the lack of homes for sale dominating conversations between buyers and their brokers. There were 56 home sales in the first quarter, with only 6 homes sold below $1 million and 19 with sale prices above $2 million.
In Q1, 48.2% of all homes, and 12.5% of homes priced above two million dollars, sold for at or above their listed price. The highest Mercer Island sale was a $4.8 million waterfront home on the north-eastern tip of the Island. The lowest was a $815,000 renovation/rebuild ready rambler on West Mercer Way.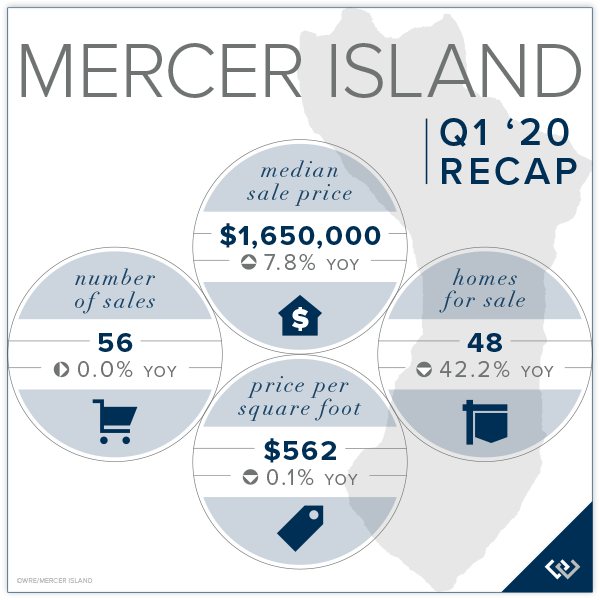 Click here to view the complete report for a neighborhood by neighborhood breakdown of Average Sale Price, size, and number of homes sold.

---
CONDOS – SEATTLE & EASTSIDE
Seattle's condo median sale price was the same in Q1 2020 as in Q 1 2019 ($460,000) with 605 units transacting. The North Seattle (+28.3%) and Richmond Beach-Shoreline (+18.4%) outperformed the region while West Seattle condos were down 5.0% over Q1 of the prior year. In Q1, 53.7% of Seattle condos (all prices), and 3.1% of condos priced above one million dollars, sold for at or above their listed price.
On the Eastside, the median sale price was up 6.5% to $490,000. Woodinville (+21.4%) and Redmond (+17.2%) condos outpaced those in surrounding cities while East Bellevue condos sold for 23.2% less than in Q1 2019. There were 528 units sold on the Eastside this quarter.
In Q1, 67.4% of all Eastside condos, and 4.2% of those priced above one million dollars, sold for at or above their listed price.
Check out all of these factoids and more in the full condo report.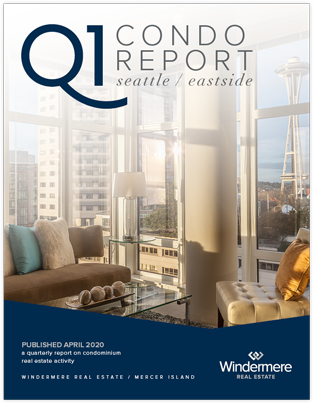 ---
WATERFRONT
The pace of waterfront transactions has been slowing over the past few quarters, driven in large part by fewer international buyers in the market. Even so, Q1 was markedly off for waterfront sales. The Eastside had 3 private waterfront home sales. Seattle had 8, Mercer Island had 2, and Lake Sammamish had no sales in the first three months on 2020.
The highest private waterfront sale in Q1 was on Lake Washington in Medina at $11.5 million. The most affordable waterfront sale was a $1.5 million Beach Drive West Seattle home with 22 feet of waterfront on Puget Sound. Note this report includes privately-owned, rather than shared, waterfront transactions only.
This top-level overview of the entire Seattle-Eastside private waterfront market, including Mercer Island and Lake Sammamish, provides a glance into the trends occurring in our region over time. Interesting, and certainly insightful, it in no way replaces an in-depth analysis on waterfront value provided by a savvy broker with years of local waterfront experience.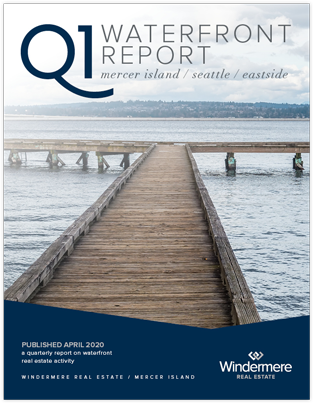 ---

Find a Home | Sell Your Home | Property Research
Neighborhoods | Market Reports | Our Team
We earn the trust and loyalty of our brokers and clients by doing real estate exceptionally well. The leader in our market, we deliver client-focused service in an authentic, collaborative and transparent manner and with the unmatched knowledge and expertise that comes from decades of experience.
2737 77th Ave SE, Mercer Island, WA 98040 | (206) 232-0446 mercerisland@windermere.com
© Copyright 2020, Windermere Real Estate/Mercer Island. Information and statistics derived from Northwest Multiple Listing Service and deemed accurate but not guaranteed.