An extreme sellers' market, driven by too few homes for sale and incredibly low mortgage interest rates, led to the most aggressive multiple offer bidding wars we have experienced in our region. There are simply dozens of buyers for nearly every home that comes to market. To be competitive, most buyers did their home research prior to writing an offer, waived typical protective contingencies—including financing, appraisal, title, and inspection—and drained their savings and investment accounts to pay cash or fund discrepancies between the purchase price and appraised value.
The ability to secure a suitable home in a neighborhood of choice is a luxury not afforded to many buyers, regardless of assets. Indeed, the lack of inventory for sale and competitiveness of the market has kept many current homeowners from moving to a home that would better suit their needs or commute.
Home affordability, or unaffordability, is at crisis levels. Most homes are completely unaffordable to first-time buyers and moderate wage earners who are finding it increasingly difficult to work and live within King County. Snohomish and Pierce Counties are not far behind. While cities and counties are coming to the table to address this issue, the potential solutions will take years to implement and see relief.
Time will tell if For Sale inventory levels will increase as we move further into our peak spring season market.
Click or scroll down to find your area report:
---
SEATTLE
Seattle's Median Sale Price increased by 7% to $800,000 (up from $750,000 a year ago in Q1 2020). Shoreline (+11%), Lake Forest Park-Kenmore (+11%), and South Seattle (+9%) outperformed the average while West Seattle (-2%) and Queen Anne-Magnolia (+4%) lagged.
There was a 39% increase in the number of Seattle homes sold in Q1 (2,271) compared to Q1 2020 (1,632)—much of which can be attributed to emerging COVID concerns in 2020 coupled with increased mobility in 2021. Queen Anne-Magnolia (+91%), West Seattle (+51%), and North Seattle (+47%) had the largest increases in number of homes sold, although all neighborhoods except Lake Forest Park-Kenmore saw double-digit increases in total sales.
75% of all Seattle homes, and 19% of those priced above $1 million, sold at or above their listed price. The most competitive Seattle markets were Kenmore-Lake Forest Park and North Seattle, with sales in the first 10 days averaging 111% and 110% of their listed price, compared to the 107% average for all Seattle neighborhoods combined.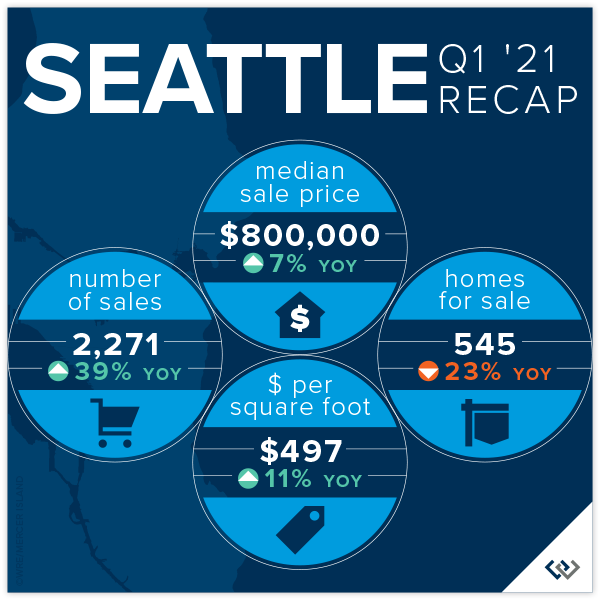 Click here for the full report and neighborhood-by-neighborhood statistics!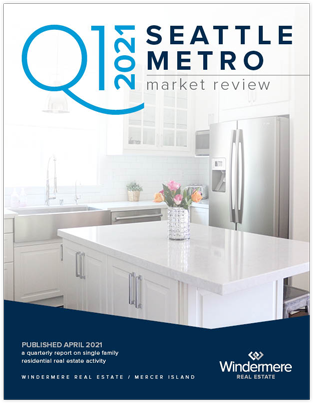 ---
EASTSIDE
The Eastside's Median Sale Price was $1,300,000 in Q1, up 31% over Q1 2020 ($989,950). Movement of companies and households to the Eastside and the extreme lack of a supply of homes for sale were the biggest contributors to this increase. South of I-90 (+39%) saw the largest gains, while the higher-priced markets of Kirkland (+16%), Mercer Island (+17%), and West Bellevue (+22%) had the smallest year-over-year increases—although being well into the double-digits, they could hardly be considered small.
85% of all Eastside homes, and 59% of homes priced above one million dollars, sold for at or above their list price. With 71% fewer homes for sale than in Q1 2020, the entire Eastside market remained ultra-competitive. East Bellevue sales topped the charts with an average sale price of 112% above list price for sales occurring in the first 10 days on the market.
The Eastside market saw Months of Inventory (the number of months it would take to sell all homes currently for sale) remain at historical lows of between .3 and .6 months. Despite the limited supply of homes for sale, there was a 25% increase in the number of Eastside homes sold in Q1 (1,413) compared to Q1 2020 (1,133)—much of which can be attributed to emerging COVID concerns in 2020 and in-migration to the Eastside.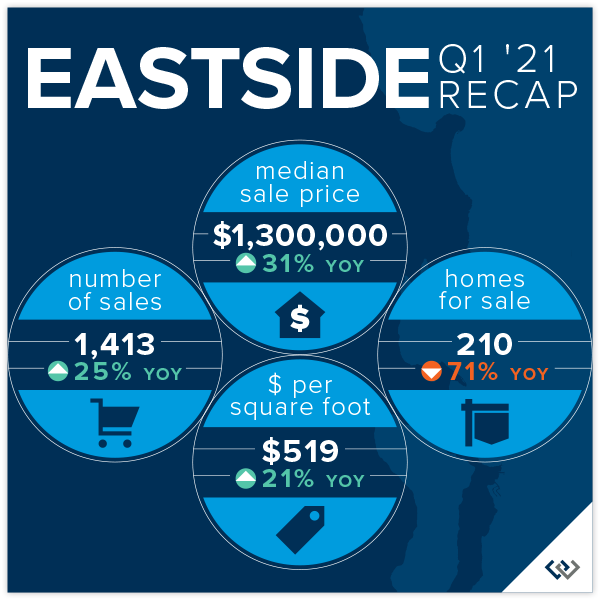 Click here for the full report and neighborhood-by-neighborhood statistics!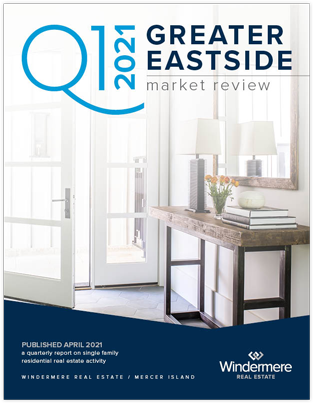 ---
MERCER ISLAND
Most notable on the Island was the continued lack of affordable housing options with no sales below $1 million, and only 10 sales below $1.5 million, in Q1. High end sales dominated the market with 30 of the Island's 64 sales of homes priced $2 million and above. Mercer Island waterfront listings remained depleted with an average of 2 waterfront homes for sale at any given time and a mere 3 sales in all of Q1.
Q1 saw an average of only 17 homes available for sale—an unbelievable low for a typically burgeoning Q1 on the Island. This has led to a continued ultra-competitive market for the most desirable homes, especially those offering one-level living, a main floor owner's suite or prime waterfront.
A staggering 81% of all homes sold at or above their listed price and those that sold in the first 10 days (75% of all sales) closed for an average of 110% of their listed price. That increase equated to sellers receiving an average of nearly $200,000 above their listed price at Island's median sale price.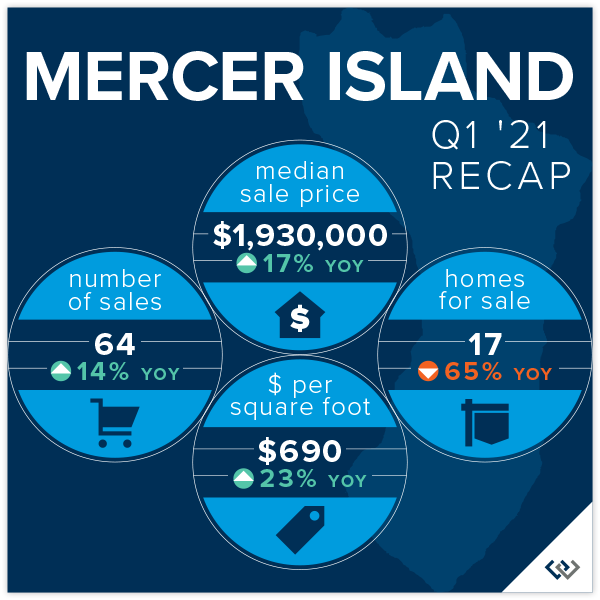 Click here for the full report and neighborhood-by-neighborhood statistics!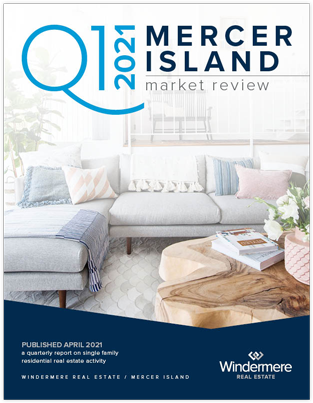 ---
CONDOS – SEATTLE & EASTSIDE
Condos have remained an attractive and more affordable option for entry-level buyers who might otherwise rent. As single-family home markets become more competitive, condo ownership becomes a more compelling—and many times the only—option for those wishing to begin their homeownership journey.
While the number of single-family homes for sale has been on the decline regionally, Seattle condos experienced a 45% increase in the number of units for sale while Eastside condos saw 23% fewer units for sale compared to Q1 2020. Both Seattle (+18%) and the Eastside (+30%) saw an increase in the number of Q1 sales.
Seattle condos saw a 3% increase (to $476,000) and Eastside condos saw a 9% increase (to $535,000) in Median Sale Price compared to Q1 2020. Fueled by new construction townhome development, South Seattle posted a 56% increase in its Median Sale Price during that same period. On the Eastside, with townhomes providing a solid alternative to lacking single-family homes, Sammamish was a standout with a 16% increase over Q1 2020
51% of Seattle condos and 70% of Eastside condos sold at or above their listed price. Those that were sold in the first 10 days (35% of Seattle and 55% of Eastside sales) sold for an average of 103% of their listed price.
Check out area-by-area details the full condo report.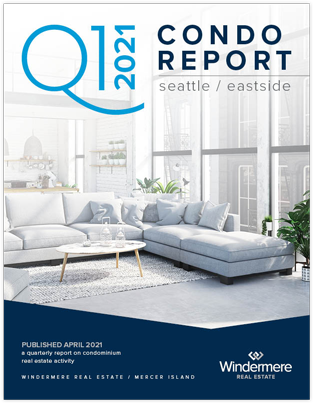 ---
WATERFRONT
With a meager combined average of only 7 homes for sale (compared to 26 in Q1 2020) Mercer Island and Eastside waterfront headlines could only read that there was nearly nothing available for sale in Q1. The Seattle market was just above typical inventory levels (with an average of 12 homes for sale compared to 10 in Q1 2020) while Lake Sammamish maintained its two-year running low of 5 homes for sale.
While many waterfront homes went under contract in mere days, they did not see the dramatic price escalations in Q1 that the more affordable, non-waterfront market has experienced. In fact, only one sale closed at (a fraction of 1%) above its listed price. While 4 of the 14 Q1 sales closed at 100% of their listed price, a fair amount of price negotiation was far more common.
This top-level overview of the entire Seattle-Eastside private waterfront market, including Mercer Island and Lake Sammamish, provides a glance into the trends occurring in our region over time. It is interesting, and insightful, but in no way replaces an in-depth analysis on waterfront value provided by a savvy broker with years of local waterfront experience.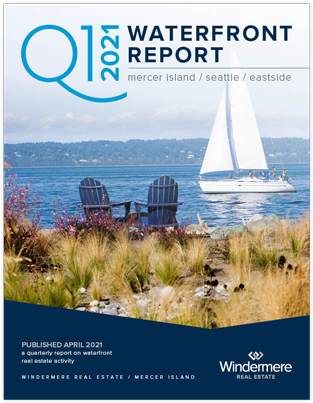 ---

We earn the trust and loyalty of our brokers and clients by doing real estate exceptionally well. The leader in our market, we deliver client-focused service in an authentic, collaborative and transparent manner and with the unmatched knowledge and expertise that comes from decades of experience.
© Copyright 2021, Windermere Real Estate/Mercer Island. Information and statistics derived from Northwest Multiple Listing Service and deemed accurate but not guaranteed.